About this time last year I attended the Printer's Row Lit Fest in Chicago – if you're in the area, it's happening again this weekend! My little June afternoon resulted in a hefty supply of wonderful used books, some of which I had been wishing for since before I can remember. Buying books is one of my favorite things, and over the last year I've especially come to love used ones. I love shopping the vendors at the Lit Fest, finding treasure upon treasure. I love the thrill of finding a book I've been waiting ages to get my hands on. One of my finds last year was 84, Charing Cross Road by Helene Hanff. It has easily become one of my favorite books.
84, Charing Cross Road is a collection of letters written between Helene Hanff, an American screenwriter, and the employees of a little antiquarian bookshop in London (located, of course, at 84, Charing Cross Road). Helene first writes to the bookshop on October 5, 1949, in search of several hard-to-find books. The simple letter sparked a twenty-year correspondence between herself and the book's main buyer, Frank Doel, and eventually Helene became a regular visitor and friend of the bookshop's staff – without ever leaving the States! As a lover of books, there's an instant camaraderie I felt with Helene, but more than that was the exquisite pleasure I got from her Dorothy Parker-esque wit. This book takes a few hours of your day to remind you of the simple things in life, the way friendships can be found in the strangest of places, and the joy of human connection. Not to mention the books!
Here are a few of my favorite passages, most of which are Helene's: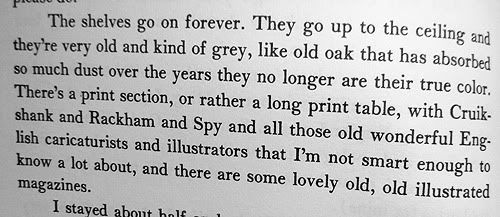 A letter to Helene from her friend Maxine, who visited the shop in London.

As her friendship with the employees of the shop progressed she often sent them packages. Some of the letters talk about recipes and different things. (Frank Doel signed his letters formally as FPD until just after this letter. I love how she addressed him the only way she knew how.)
I feel guilty only having paid a few dollars for this book. The enjoyment I find in it is worth so much more! The story of this correspondence was made into a play for both stage and screen as well as a movie with Anthony Hopkins and Anne Bancroft. I haven't had the chance to see the film yet, but I've heard it's delightful. I can only imagine!