Today I'm so excited to have my wonderful friend Jamillah sharing some ethical gift ideas! Through her blog (one of my all-time favorites) Jamillah constantly inspires me with her dedication to conscious living, and she shows us all just how accessible and fun ethical style can be. Enjoy, and thanks again to Jamillah for stopping by!
---
Hi there Literary Inkling readers!!! I'm Jamillah, I write about ethical shopping and happy things over at Made-To-Travel. I am so thrilled to be here sharing some ethical gifts for your favorite bibliophiles. Small confession--I have totally been dreaming of this post, since I am a dear lover of literature myself, so let's get started!
Curl Up and Read Gifts (L -R)
Literary Pillows- $35: I think these are the most perfect pillows for curling up and reading your favorite book! I love that there is a modern wink to these portraits of legendary writers. The literary pillows are made in the USA out of recycled PET fabrics.
Eyeglass Holder- $18: An adorable place to rest any pair of glasses. This is a fair trade product made out of sustainable sheesham wood.
Vintage Lowercase Alphabet- $22.95: Adoooorable! Such a great gift for a reader that is also a crafter! And I love the idea of using this stamp to mark your books or sign off a card...so classy and elegant. These lovely letters are made in the U.S out of recycled materials.
Pom Pom Throw- $45: I just love a pom pom'd throw and for me a blanket is a must for any curl up and read moment. This beautiful throw is made by fair trade artisans in India.
Book Stack Side Table- $176: If anyone would get me this amazing table for Christmas I would love them forever!!! So perfect for a reading nook or a bedside table and it's made out of mango wood by fair trade artisans in Thailand.
Litographs- $24-$29: These beautiful pictures also tell beautiful stories! Texts from great classic books are configured to make these unique prints and YES the text is completely legible. These works of art are made in the U.S.
Out and About Gifts (L-R):
Smart is Beautiful- $34: Well duh :). This perfect tee is made in the U.S.
Recycled Leather Bookmark- $9.95: This bookmark is made out of recycled leather in the U.S. Put a sweet picture in it and stuff it between a cherished book for a thoughtful, personal gift.
Owl Bookmark- $8.75: I think an owl is the universal symbol for the wise, so I love this sweet little bookmark handmade by fair trade artists in the Philippines.
Quotes Handwarmers- $22.95: No need to air quote! Just raise your hands! These are the perfect warmers for that friend who can quote at a drop of a hat! Made in Binghamton, NY.
Letter Necklaces- $28: Taking the love of print way back, these charms are made in Vancouver Island out of upcycled pieces from a hand cranked printing press! The charm actually lays on the neck like a flat bar and looks wonderfully clean and modern.
I hope you were able to find something special for your favorite literature lovers in this roundup of ethical gifts for readers. Happy holidays and thanks so much for reading!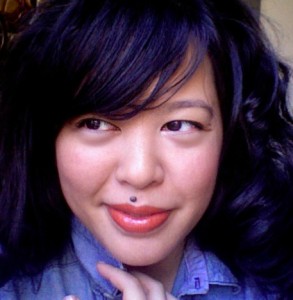 Jamillah lives in NYC and writes about ethical shopping and happy things on Made-to-Travel. From fair trade, to eco-friendly, to thrifting-- she is passionate about showing there's plenty of opportunity to shop for a better world and every single person can do it!
Find Made-To Travel on Bloglovin / Pinterest / Twitter / Email: made-to-travel(at)outlook.com.